Women Need To Take Control Of Their Own Narratives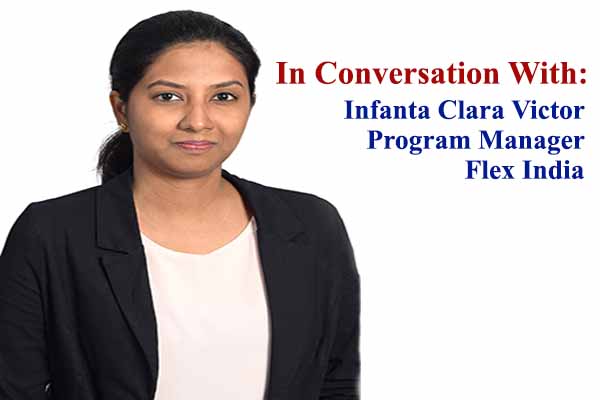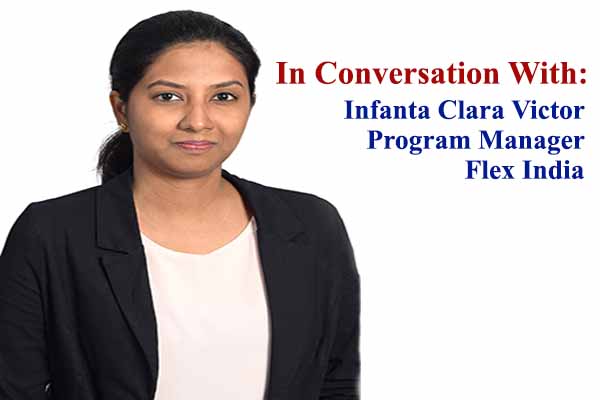 Infanta Clara Victor, Program Manager at Flex India is self-driven and motivated woman who has climbed up the ranks in a short span of time, through her own efforts.  In a field that is challenging for women, Infanta has proven herself and today plays a bigger and mission critical role at Flex. TimesTech spoke to Infanta to know more about her journey, inspiration, and challenges that women face in STEM.
Read the full interview here:
TimesTech: Tell us about your childhood, educational journey and your first job at Flex.
Infanta: I was raised in a nuclear family along with my younger sister. My parents have always supported and inspired me and encouraged me in whatever I wanted to pursue. The most important lesson that I learned from them was to apply myself to things that are outside of my comfort zone and not fear failure.
I have always been fascinated by technology ever since I was a child and have a special interest in new-age gadgets, Robotics and AI. I obtained a bachelor's degree in electronics and communication engineering and in college I have organized several technology-related symposiums.
My first job was as a Materials Buyer at Flex. I was very enthusiastic about my job and had volunteered to take on several projects. I took up my first international assignment at Wuzhong, China site was on-job training of Materials Buyer for consumer product type. Following this, I took up an assignment at Warrington, UK to transfer the demand planning process to Flex Global Business Services (GBS), India. During my initial years at Flex, I was fortunate to have come across some great mentors who encouraged me to experiment with new things, make mistakes and gave me opportunities to do so. They provided me with challenging assignments that helped me sharpen my skills and shape my career.
TimesTech: What opportunities did you find at Flex and how did it help you grow?
Infanta: Flex has provided several opportunities for me to grow, both personally and professionally. The game changer in my journey was when I was nominated for a one-year assignment at Flex Milpitas. I prepared myself to get through multiple rounds of interviews and I took on a dual role i.e., Materials Planner and a Production Controller. Once I returned to India, I was the Team Leader for an Americas Planning operation, and later lead the Timisoara site's Process Transformation.
Subsequently, I had the opportunity to lead the GBS India Pulse Centre, to drive the first Flex Pulse project Asset Velocity which is aimed to improve Flex's Inventory levels and efficiency of our supply chain. One memorable event in my professional life was when I was given the chance to address our CEO Revathi Advaithi and the C-level executives at the Chennai Pulse Centre.
This entire journey provided me with tremendous learning opportunities and excellent exposure. I was able to collaborate with Flex's leadership, customers, suppliers and absorb different cultures.
With sponsorship, mentoring, transparent job opportunities, and extensive training from Flex, I have built a strong governance & compliance process for Flex Robotic Process Automation (RPA) program globally, which is a significant achievement for me. In addition, I played a key role in deploying 200 + BOT Units across Flex's GBS unit.
TimesTech: What challenges did you face in your professional journey?
Infanta: There is an unconscious bias that exists where the perception is that women working in STEM fields are not equipped to handle challenging situations. Across the initial phase of my career, I had to work harder to prove that I am the best fit for the job. I rose to the challenge by constantly upgrading my skills and by obtaining the relevant certifications to equip myself. I further advanced myself in lean methodologies & got my Lean Green Belt certification early in my career, which helped me to rethink processes, bring changes & add value to what I was doing.
TimesTech: Why there are fewer women in the STEM field?
Infanta: STEM unfortunately is seen as a challenging field for women to build careers in. These roles have been dominated by males, traditionally. The common misconception is that the stress of these roles would interfere with a woman's ability to juggle work and family.
While globally women continue to be under-represented in STEM fields, the situation is gradually changing in India.  Many families in India are inspired to encourage their daughters to take up jobs related to technology. Additionally, we see a growing number of Indian women leaders who act as role models for the next generation. Women need to take control of their own narratives and drive their own career paths. Another aspect that plays a key role in driving women into STEM fields is education methodologies. Through education and community support, women have a platform to influence their career development trajectory.
I assist women at Flex by providing them with constructive feedback. I also attempt to include them in my professional network since having a strong support system is crucial for a successful career. As our CEO always say, sponsorship is extremely important – I ensure to recommend the best talent for any new roles or assignments that arise.
TimesTech: What are your goals going forward?
Infanta: Being in Flex's Global Procurement & Supply Chain (GPSC) team for over ten years, I wanted to explore newer opportunities and with constant learning, guidance, and preparation, I was able to secure the position of RPA Project Manager and lead a global team. I take pride to have come this far.  In the future, I would like to build and lead a strong team of Supply Chain analyst & design engineers to create best-in-class supply chain automation and the best customer delivery possible.
link