What Is ChromeOS Flex and Why Should I Use It?
These days, ChromeOS and Chromebooks are more popular than ever. Most of it is because of their tight grip on the educational market – in many schools, their affordable price and decent performance makes them easy to recommend.
However, not everyone knows that buying a Chromebook is not the only way to experience ChromeOS. A version known as ChromeOS Flex can be downloaded and installed on almost any device, totally free of charge.
Here's everything you need to know about ChromeOS Flex, including six key features that make it worth trying.
What is ChromeOS Flex?
Basically, ChromeOS Flex is an operating system similar to regular ChromeOS. There is a huge difference though – while ChromeOS is only available as a pre-installed system on Chromebooks, ChromeOS Flex is freely available to download and use.
There are some limitations, such as spec requirements and app compatibility (see the full range on the Google website), but it works on the vast majority of PCs and laptops.
That includes Windows and MacOS machines with an x86 processor – most Intel and AMD CPUs are, but Apple Silicon isn't. This extensive compatibility is important, as one of the main goals of ChromeOS Flex is to reduce e-waste.
The operating system itself is also much less resource-intensive than Windows or macOS, so it can run well even on basic or old hardware.
That's why ChromeOS Flex is often advertised as a way to make your laptops last much longer. Once they are too slow for their original system, you can simply install ChromeOS Flex. Because of the lightweight OS, even ageing hardware will feel snappy and almost brand-new again, so you won't have to buy another device just yet.
Should I install ChromeOS Flex?
ChromeOS Flex has a lot of unique, interesting and useful features, but changing your operating system is always a difficult choice to make. Do you need to get ChromeOS Flex?
The first thing to always keep in mind with ChromeOS Flex is its speed and low hardware requirements. There are some even more basic versions of Linux, but being officially supported by Google and so easy to set up might give ChromeOS Flex the edge for many people.
It's simple to install on an old machine, giving it a new lease of life and making it feel almost brand new again. You can also expect longer battery life and reduced fan noise if you're using a laptop.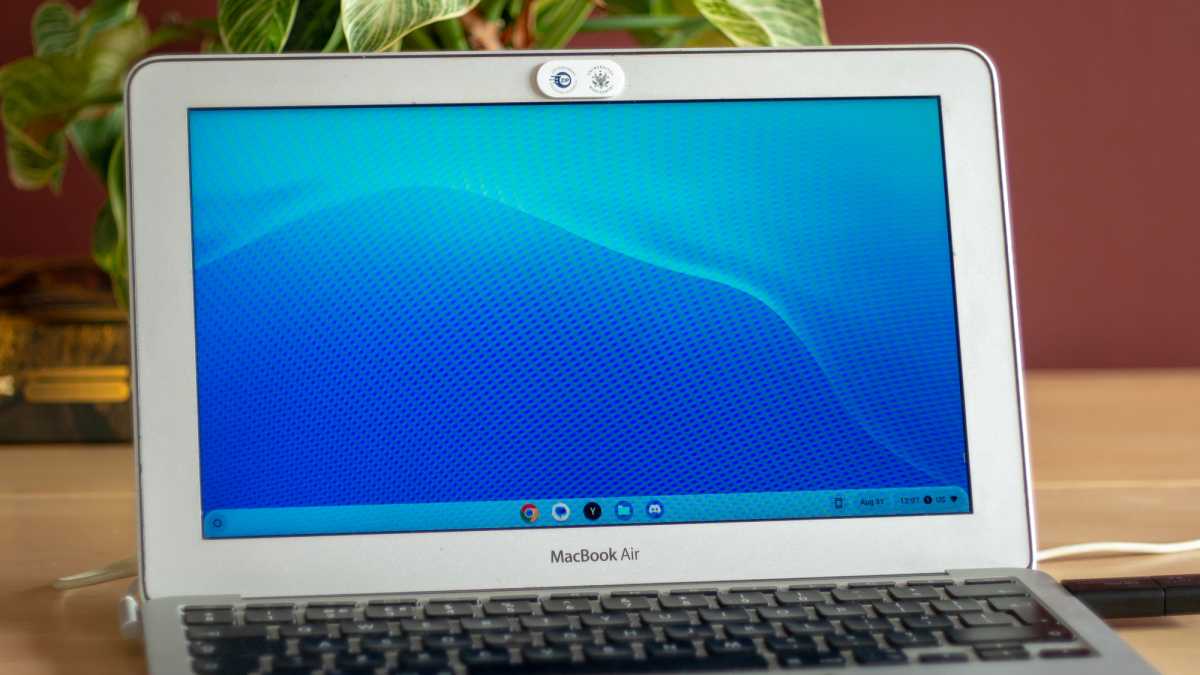 Adrian Sobolewski-Kiwerski / Foundry
However, those aren't the only advantages of ChromeOS Flex. Over the years the system has matured, and it's now very competent and versatile.
ChromeOS gives you easy access to all your Google services. It's a great choice for all the Android users, as the system pairs directly with your phone, making it easy to seamlessly transfer data, send/receive messages and get notifications.
ChromeOS Flex is also free and bootable straight from a USB stick. So it's extremely easy to try out – just create an installer, boot from it and check out if everything works before changing anything on your PC! It works like charm, and even allows you to use it as a secure system on devices you don't know, such as in a library or at work.
Basically, ChromeOS Flex gives you the basic computing experience that most people need but does so without the hefty price tag or high system requirements of other big brands. It's a great way to extend the life of your machine, or maybe change it into a school-friendly device for your child.
If you're ready to give it a try, here's how to install ChromeOS Flex. Still need convincing? Here are six great reasons to try it.
Best ChromeOS Flex features
Fast and lightweight
ChromeOS Flex is quite different or Windows and macOS. It doesn't occupy much of your system resources, meaning it can easily run on basic hardware and still feel snappy and responsive.
Flex was designed as a system for ageing education laptops, so it doesn't have high system requirements and can run on almost anything.
Of course, there is hardware compatibility to consider, but if that works out (or you're on a certified models list) – even a low-end 10-year-old MacBook can feel quite snappy with Google's OS installed. Plus, you still get OS updates – unlike what macOS offers for such old devices.
Here are minimum spec requirements for the newest version of ChromeOS Flex:
Architecture: Intel or AMD x86-64-bit compatible device
RAM: 4 GB
Internal storage: 16 GB
Bootable from USB drive
BIOS: Full administrator access. You'll need to boot from the ChromeOS Flex USB installer and make some adjustments in the BIOS if you run into issues.
Hassle-free updates
Updates are completely painless in ChromeOS Flex. Unlike Windows or Mac machines, you won't need to worry about restarting your system and waiting for a while for it to finish, or doing basically any maintenance here.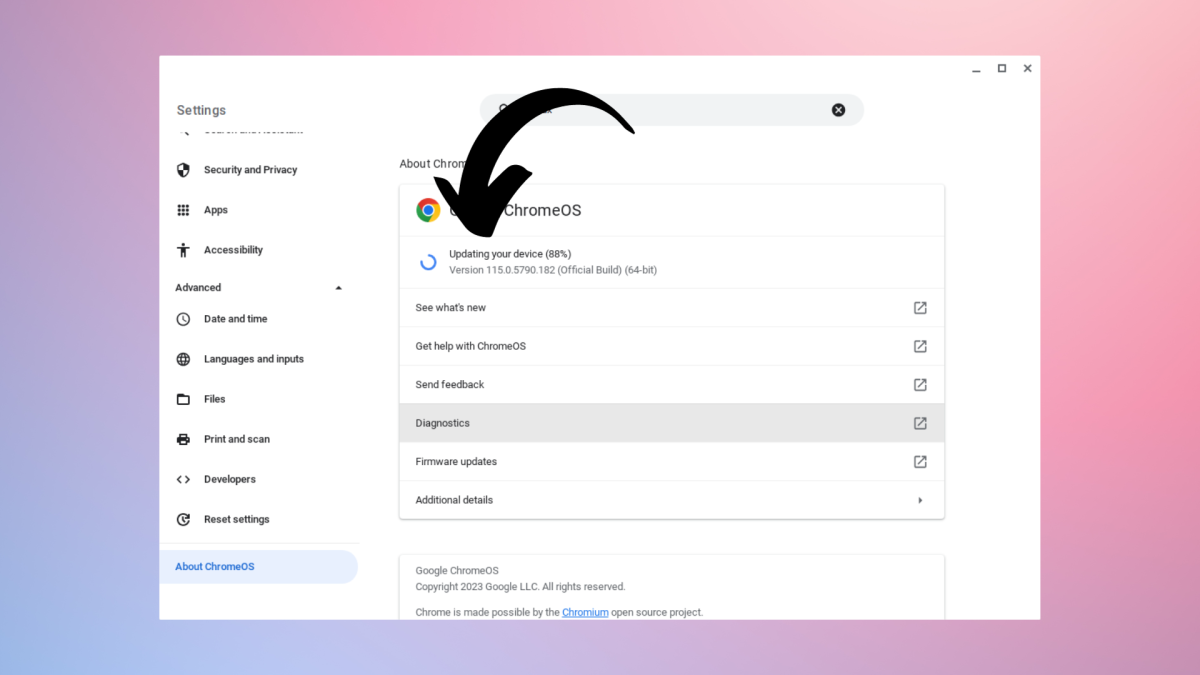 Adrian Sobolewski-Kiwerski / Foundry
ChromeOS Flex updates are automatically downloaded and installed when your Chromebook is connected to the internet.
The only thing to do then is turn it off and on – the new update will not need to be installed on boot, so the whole process is seamless and doesn't take longer than a normal restart. What's more, it's usually done together with your normal cycles of turning the machine on or off, so you probably will not even notice it – you'll just get a notification that a new update has been installed.
Linux apps
At first, ChromeOS Flex's features were limited. It could use everything that's on the web – so web apps, Google Chrome Store, and all the resources of your internet browser. Even though it's more than enough for many users, for some it's simply not enough. Fortunately, ChromeOS Flex now has an answer to that problem.
Similarly to the standard edition of ChromeOS, Flex can run a Linux virtual machine, meaning that it's possible to install and run Linux apps on your Chromebook.
To do so, you'll need to allocate some disk space for your Linux install, but the rest is extremely easy – you just open it like any other app and get the trusty Linux terminal.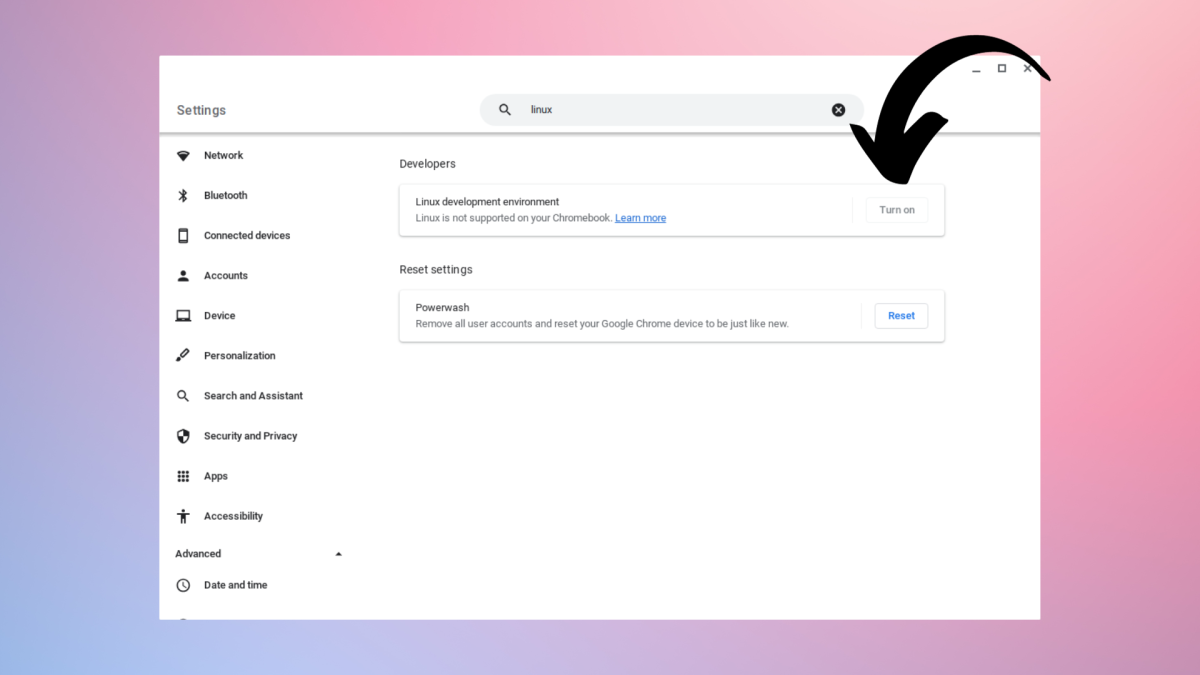 Adrian Sobolewski-Kiwerski / Foundry
It allows you to install all the apps available for Linux, which adds to the possibilities of ChromeOS Flex. You'll be able to use all available apps, so no more web app restrictions.
However, Linux requirements are slightly different to ChromeOS Flex, so devices released in 2010 usually can't run it. It wasn't possible on my 2010 MacBook Air 11″, but I had no problems with the 2014 13″ Air.
Regular Chromebook users can already run Android apps on their machines using Google's Play Store, but it looks like the feature will be coming to ChromeOS Flex too at some point soon.
Phone integration
ChromeOS Flex has an undisputed advantage when it comes to being connected to your phone – especially Android handsets. As both are developed by Google, the systems are designed to work together.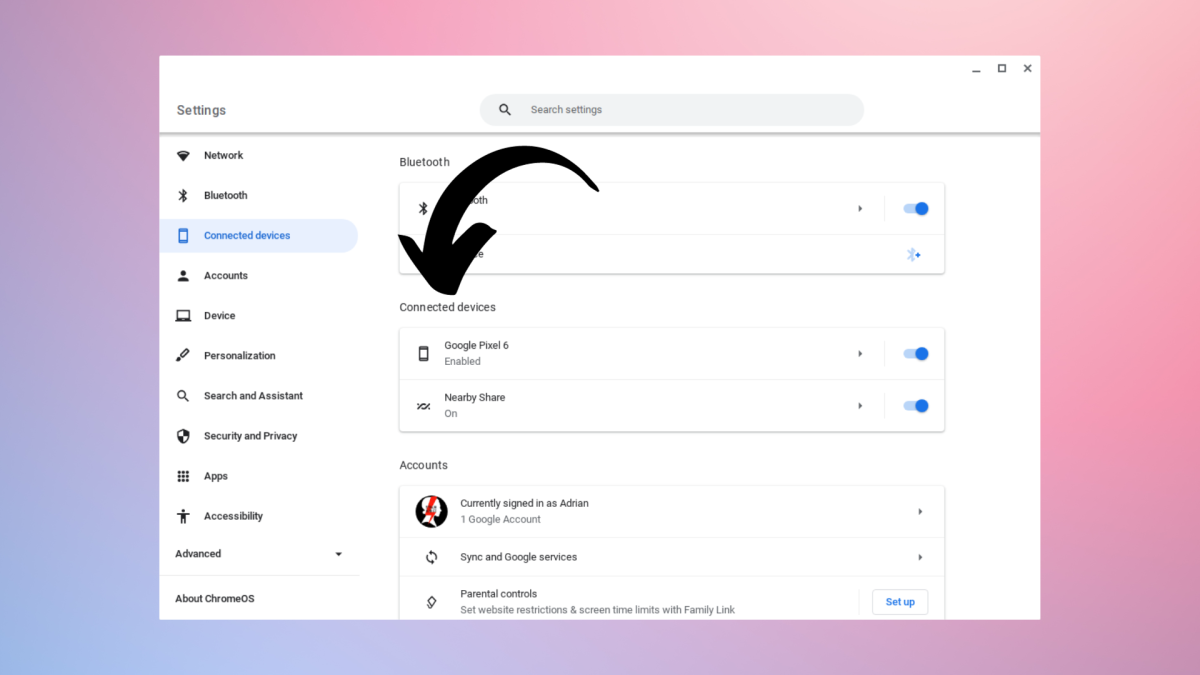 Adrian Sobolewski-Kiwerski / Foundry
In ChromeOS Flex, Phone Hub offers access to a wide range of functionality, from seeing phone notifications on your computer screen to accessing all your photos and videos.
You can even stream apps to your phone screen on some Android phones – check if yours is compatible with Phone Hub.
Built-in Google Assistant
For most people, Google Assistant remains the go-to virtual assistant. And it's built into ChromeOS Flex – just turn it on in Settings or when setting up for the first time.
That's much more straightforward than what you'll have to do to use Google Assistant on Windows 11.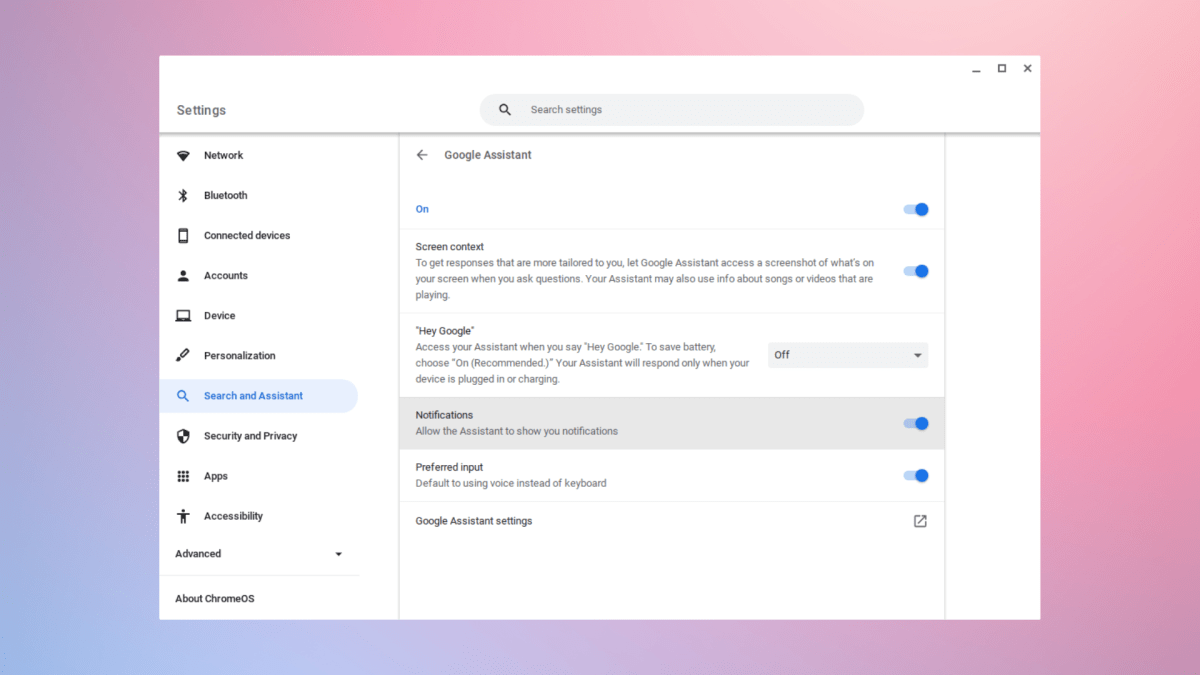 Adrian Sobolewski-Kiwerski / Foundry
The ChromeOS Flex version of Google Assistant works very ssimilarly to the one on your phone. It can either listen for the "Hey Google" command or be triggered by a hotkey of your choosing.
It's free
It has to be said that ChromeOS Flex's other great feature is its price – it's completely free for personal use! Considering everything you're getting here, that's remarkable.
ChromeOS Flex is a simpler version of regular ChromeOS, which itself is more basic than Windows and macOS. But Flex in particular has come a long way – it's no longer simply a browser in operating system form.
However, you will need an internet connection to make the most of it, and some apps (such as Adobe Photoshop) simply aren't available.
It's still one of the best choices for education, though, or if you're just looking for an operating system for the basics. ChromeOS Flex is fast, responsive and very reliable. Seeing an old, slow device come back to life after installing Flex is quite a marvel.
So, if you don't need a device for demanding tasks (such as photo and video editing) or compile Linux kernels for a living, a version of ChromeOS might be your best bet. And ChromeOS Flex lets to switch for free.
link