DFW to deploy latest ADB SAFEGATE automated docking system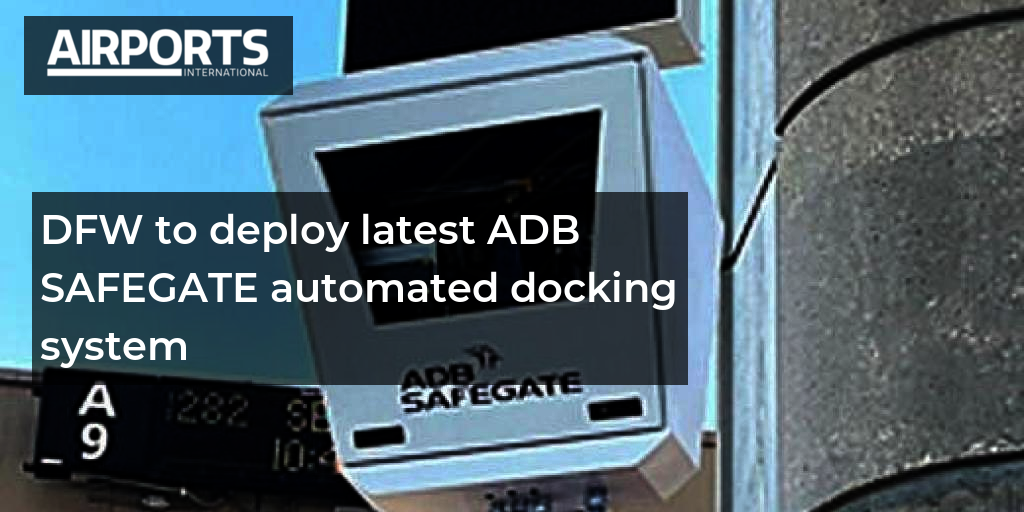 Dallas Fort Worth International Airport (DFW) is set to update its advanced visual docking guidance systems (A-VDGS) on its Terminal B gates with the latest offering from ADB SAFEGATE.
The airport has ordered 42 Safedock FleX units to replace older equipment as part of an airport-wide technology refresh aimed at improving operational performance and passenger experience.
DFW – which is the world's second busiest airport – has been operating ADB SAFEGATE's Safedock A-VDGS since 2008, with systems currently in use on all 168 gates.
Mike Youngs, vice president of Information Technology Services at DFW, said: "Our goal is to use advanced technologies, integrated systems and data to create a more consistent and efficient airside operation to better serve air travellers and our airline partners.
"The Safedock A-VDGS not only provides smoother aircraft parking, but the systems are uniquely capable of collecting and sharing data to further improve operations."
Safedock FleX utilises the company's proven infrared laser and 3D scanning technique.
According to ADB SAFEGATE, DFW has long been a technology leader and was the company's launch customer for its SafeControl Apron Management (SAM) system in 2011. SAM integrates the A-VDGS with flight information systems and other gate technologies to collect and share data to provide real-time management of the apron.
Today, DFW and ADB SAFEGATE are working together on a pilot programme for the Digital Apron that will utilise the Safedock FleX onboard camera and SAM to introduce artificial intelligence to enable more predictive apron operations. The Digital Apron pilot programme is part of AAAE's Airport Consortium on Customer Trust (ACT) Program and is set to take place this fall.
"We are very pleased to play a role in bringing innovative technologies to future-proof apron operations at DFW," said Nick Haines, VP Americas for ADB SAFEGATE. "Our next generation A-VDGS are key to our Digital Apron offering of advanced technologies that include data analysis, artificial intelligence and video surveillance to achieve efficient, safe and sustainable, all-weather airport operations."
According to the company, the modular design of the Safedock FleX offers a separate scanning unit and pilot display for greater flexibility in mounting to support tight parking positions at the airport and optimise views for pilots and ground crew.
In addition, the FleX boasts double the scanning area compared to older systems to accommodate complex gate layouts and allow centreline changes without repositioning the A-VDGS.
Photo credit: ADB SAFEGATE
link